The Serenity and Chaos of Varanasi Ghats: A Fascinating Encounter

Varanasi, also known as Banaras, is one of the oldest continuously inhabited cities in the world. Situated on the banks of the sacred river Ganges, it is a city of extremes – ancient philosophy and modern technology coexist side by side. The Ghats of Varanasi are a fascinating encounter, offering a burst of serenity amidst the chaos of the city.
Activity in Varanasi
The Ghats are a series of steps leading down to the river and are a crucial hub of activity in Varanasi. Pilgrims visit the Ghats to take a dip in the holy river, offer prayers, and perform ceremonies in the hope of attaining salvation. These rituals, coupled with the vibrant atmosphere of the city, make the Ghats a unique experience.
Most famous Ghats
One of the most famous Ghats is the Dashashwamedh Ghat, where the evening Ganga Aarti ceremony is held. The aarti is a spiritual ritual where the priests offer prayers to the river and light lamps, creating a dazzling spectacle as the lamps float on the river. The aarti draws huge crowds and is a must-see for visitors to Varanasi.
The Ghats are not just a place for spiritual seekers. They are also a hub of commercial activity, hosting shops selling everything from souvenirs to food. The narrow lanes leading to the Ghats are crowded with vendors selling flowers, sweets, and religious items. The hustle and bustle can be overwhelming, but it is an experience in itself.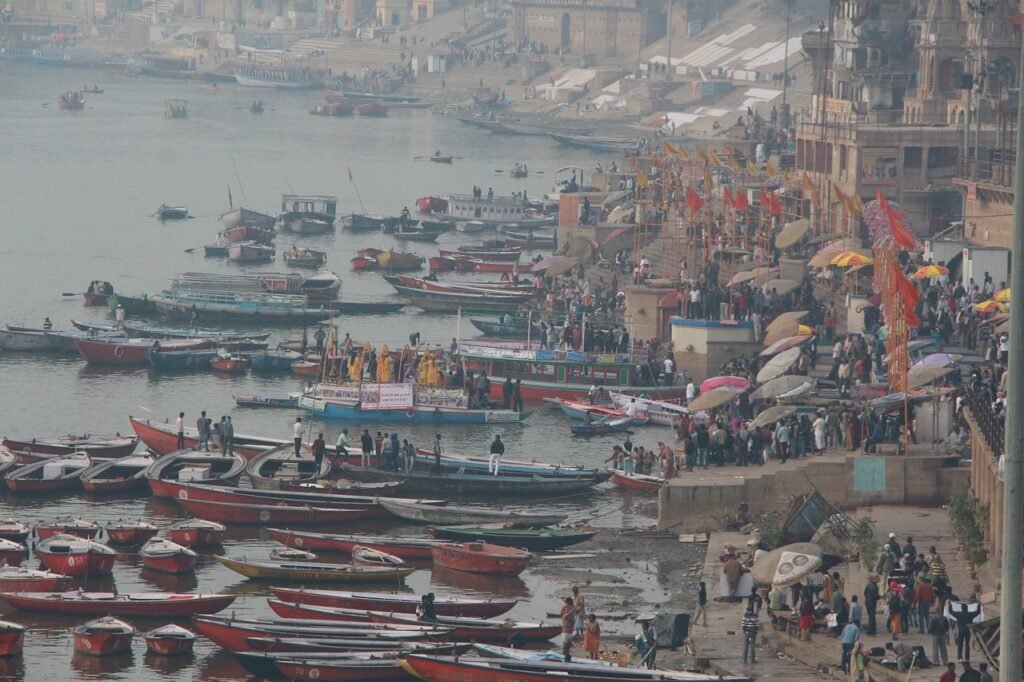 Moments of serenity
Despite the chaos, the Ghats offer moments of serenity. Sitting by the river, watching the boats glide by and listening to the chants of the priests, one can feel a sense of calm in the midst of the mayhem. The Ghats offer a refuge from the noise and pollution of the city, a chance to connect with the spiritual side of life.
The Serenity and Chaos of Varanasi Ghats: A Fascinating Encounter
For those seeking a more adventurous experience, the Ghats offer the opportunity to take a boat ride on the Ganges. Starting from Assi Ghat, the boat takes you up to Manikarnika Ghat, passing by the various Ghats on the way. The boat ride offers a unique perspective on the city, a chance to see Varanasi from the water and witness the various rituals being performed on the Ghats.
Spirituality of India
In conclusion, the Ghats of Varanasi offer a glimpse into the vibrant culture and spirituality of India. Amidst the chaos, the Ghats provide a sanctuary of peace and tranquility. The Ghats are an experience like no other, offering a fascinating encounter with the ancient city of Varanasi.

The Serenity and Chaos of Varanasi Ghats: A Fascinating Encounter
Important Links
Discovering the spiritual magnetism of Varanasi's famous temples
Exploring the mystical charm of Varanasi's famous Ghats
Transforming Varanasi: How the VDA is Driving the City's Development
External Link
The Serenity and Chaos of Varanasi Ghats: A Fascinating Encounter