Discover the Enchanting Varanasi: A Journey Through Development, Ghats, and Festivals
Introduction
Welcome to the mystical city of Varanasi, where ancient traditions meet modern development. Nestled along the banks of the holy Ganges River, Varanasi boasts a rich cultural heritage that attracts visitors from all over the world. In this blog post, we will take you on a journey through the various aspects that make Varanasi truly unique – its development projects, serene ghats, and vibrant festivals. Discover the Enchanting Varanasi
The Serene Ghats
No visit to Varanasi is complete without a walk along its iconic ghats. The city is home to over 80 ghats, each with its own significance and charm. From the bustling Dashashwamedh Ghat, where the famous Ganga Aarti takes place every evening, to the peaceful Manikarnika Ghat, where Hindu cremations are performed, every ghat has a story to tell. Discover the Enchanting Varanasi
Visit at : The Plight of Ganga's River Dolphins in Varanasi
Development Projects
Varanasi is undergoing a significant transformation with numerous development projects aimed at improving the city's infrastructure and overall quality of life. From new roads and flyovers to beautification initiatives, the city is witnessing a remarkable change. The Varanasi Smart City project, for instance, focuses on creating a sustainable and digitally connected urban environment. These initiatives not only enhance the city's aesthetics but also contribute to its economic growth. Discover the Enchanting Varanasi
Read Also : Traversing the Distance between Varanasi's Temples and the Airport: Tips and Tricks
Boat Rides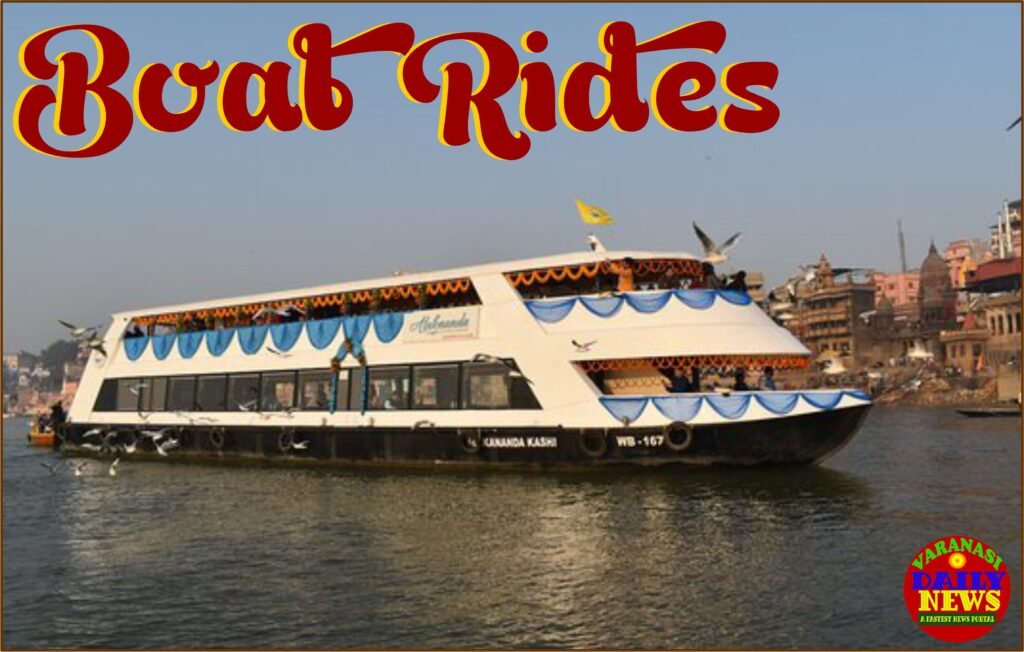 As you stroll along the ghats, you'll witness a fascinating blend of daily rituals, spiritual practices, and vibrant boat rides. The serene atmosphere coupled with the picturesque view of the river and the ancient buildings lining the ghats creates an enchanting experience. Don't forget to take a boat ride during sunrise or sunset to witness the ghats come alive with a golden hue. Discover the Enchanting Varanasi
Read Also : Varanasi Development Authority- Offering Plots to boost city's growth
Vibrant Festivals
Varanasi is synonymous with festivals that showcase its vivacious culture and religious fervor. One such festival is the world-renowned Diwali, the festival of lights, which illuminates every nook and corner of the city. The ghats are adorned with beautiful diyas, and the skies are lit up with magnificent fireworks, creating a mesmerizing spectacle. Discover the Enchanting Varanasi
Maha Shivaratri
Another significant festival in Varanasi is the Maha Shivaratri, dedicated to Lord Shiva. Devotees from far and wide flock to the city to seek blessings and participate in grand processions. The entire city is drenched in devotion and excitement, with spiritual discourses, music performances, and cultural events taking place throughout the festival.
Whether it's the vibrant Holi celebrations, the traditional Ram Leela performances during Navratri, or the cultural extravaganza of the Ganga Mahotsav, Varanasi never fails to enchant its visitors with its festive spirit. Discover the Enchanting Varanasi
Visit at : Discovering the Spiritual Essence of Varanasi: An Unforgettable Travel Experience
Kashi Vishwanath Corridor
One of the most notable development projects is the Kashi Vishwanath Corridor, a grand corridor connecting the famous Kashi Vishwanath Temple to the riverfront. This ambitious project aims to provide a seamless and hassle-free experience for pilgrims by creating a dedicated pathway adorned with intricate architectural marvels. The corridor will not only showcase the city's rich heritage but also facilitate easy access to the temple, ensuring a memorable visit for devotees.
Conclusion
Varanasi is a city that seamlessly blends its past with the present, offering a unique experience to all who visit. Its development projects, serene ghats, and vibrant festivals make it a must-visit destination. So pack your bags, embark on a journey to Varanasi, and immerse yourself in the beauty and spirituality that this ancient city has to offer. Discover the Enchanting Varanasi
External Link